The reporting pages in Record Manager have been completely replaced with a brand new area with more powerful and adaptable reporting and analytics. The work we have done has been informed by feedback from our customers and specific user research sessions that provided invaluable insights into what needed to change and what needed to be added. The new reports allow you to generate reports for any date range you require and now have in-built filters to allow you to refine the data even further. All graphs can now be exported as images to be saved locally and used for internal reporting and external requirements.
How to access the reporting
The old two options from the left hand menu have been replaced with one. Now you just click the 'Reports' button to take you to reporting: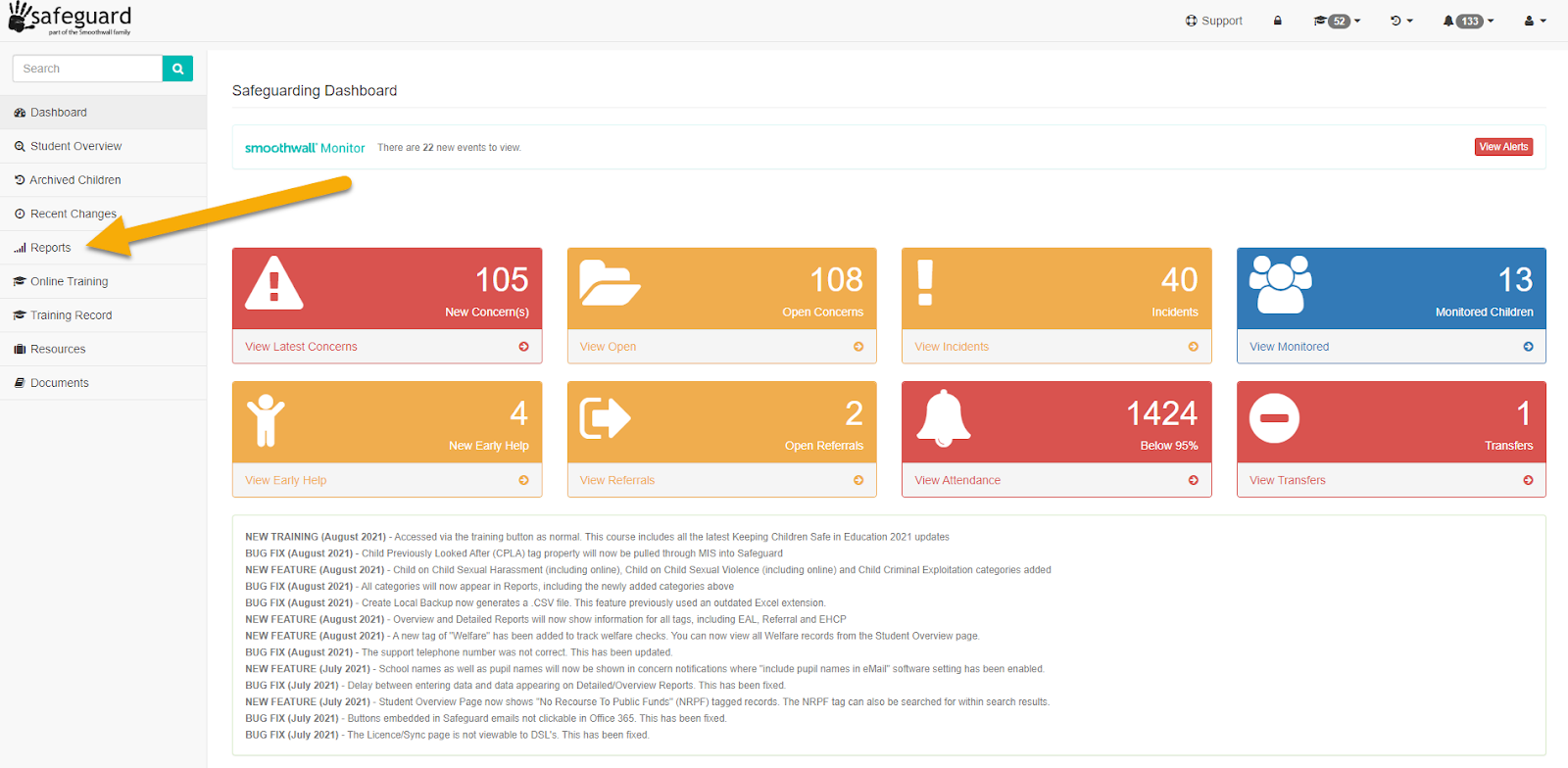 A new tab will open in the reporting area. This is the page you will land on - it shows you any reports you have previously generated which we will cover later in the guide.

To Run a Report
Click on the New Record Manager Report button in the left hand menu: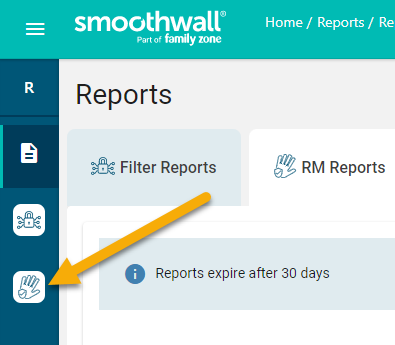 This will take you to the new report page: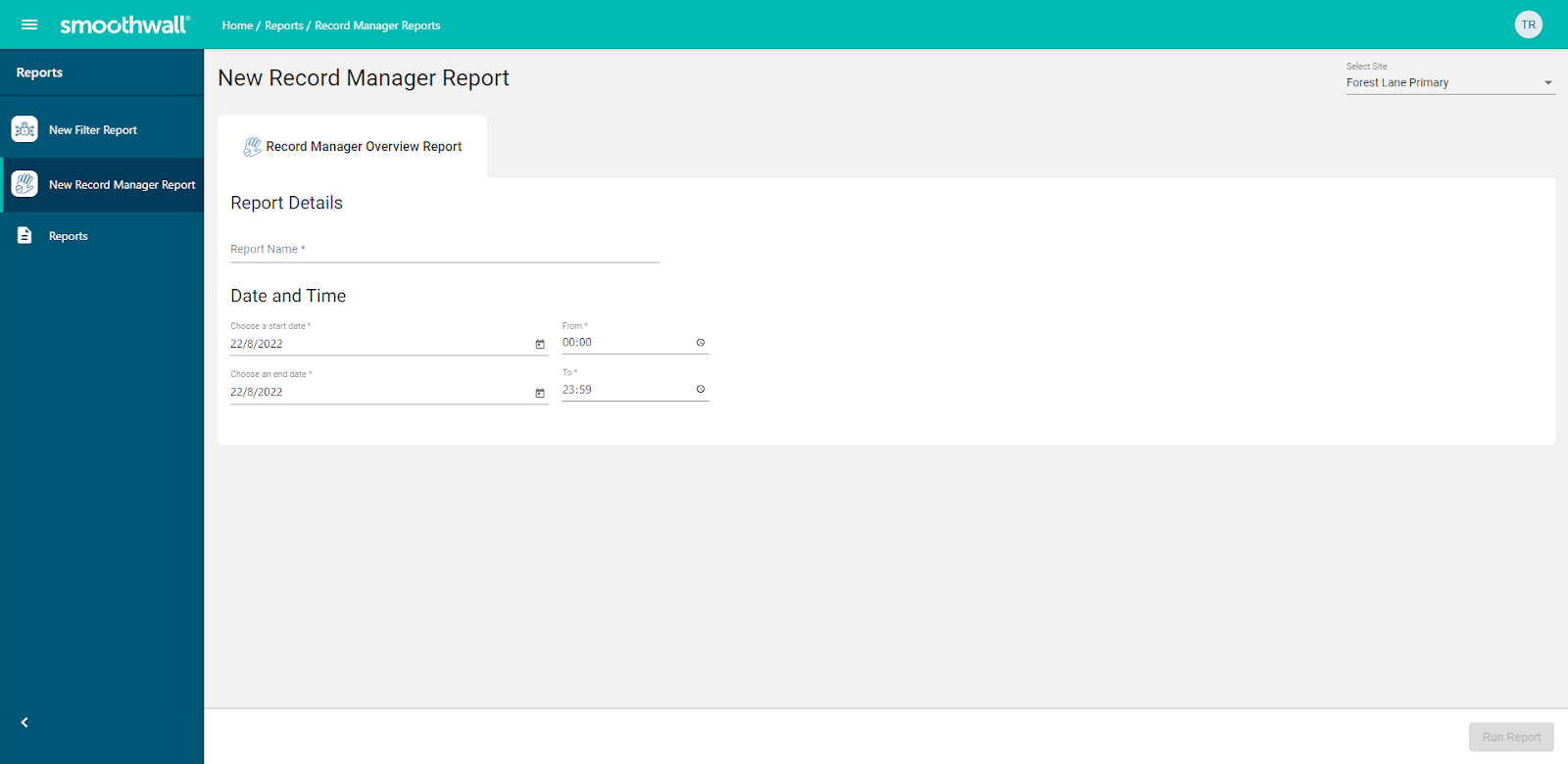 If you are part of a multi site organisation (e.g. a MAT), you can choose which site to run your report on from the drop down menu, top right. If not, skip to the next step.

Enter a title for your report, i.e. Summer Term 2022, the date range you want the report to cover and click run. The report will then be run in the background. Click on the Reports option in the left hand menu.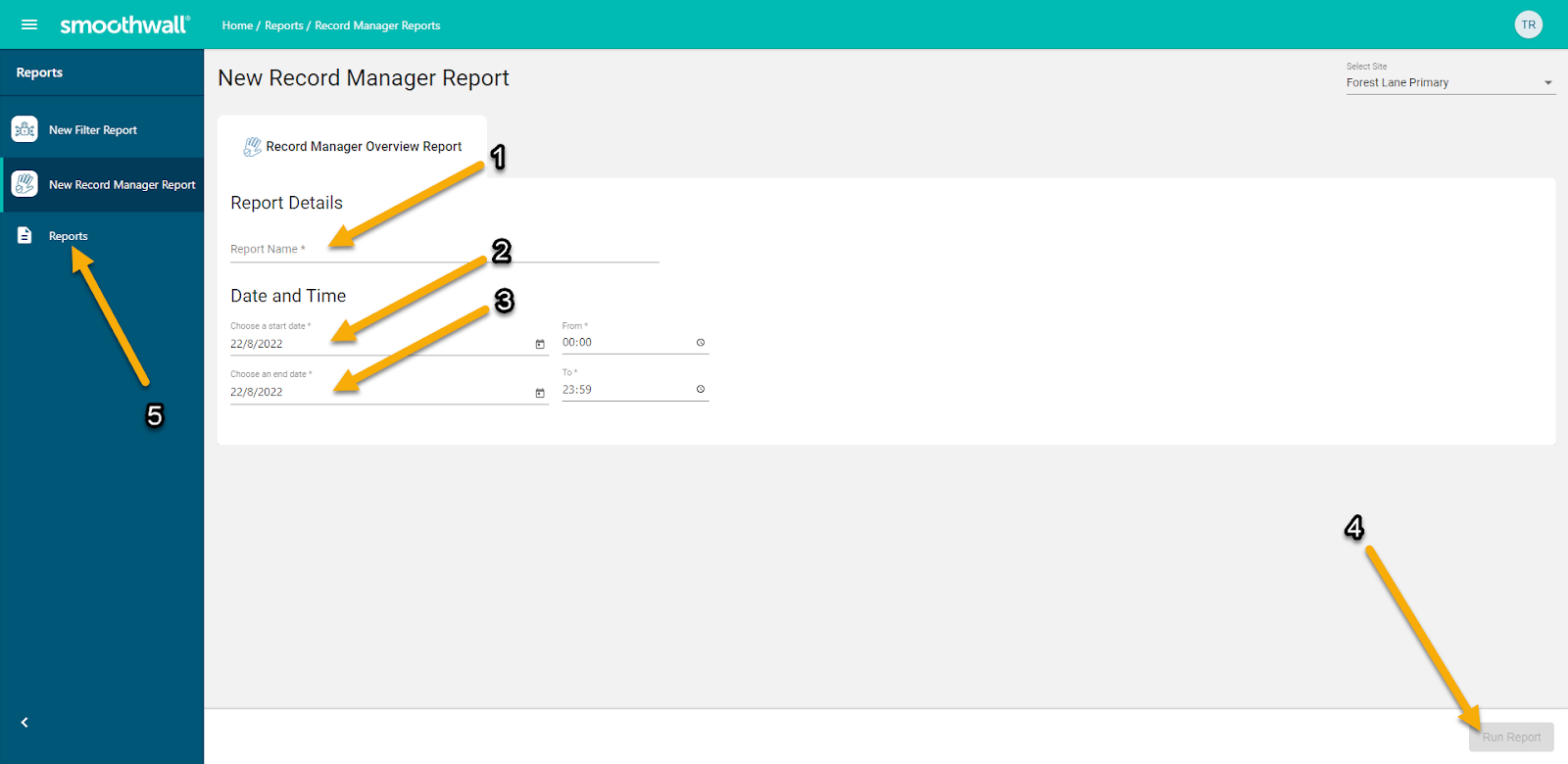 You can see the status of your new report here along with any old reports you have generated. When your report is ready, the status will change from 'In Progress' to 'Ready'.

Click on the report title and the report will open. The report is split into different tabs: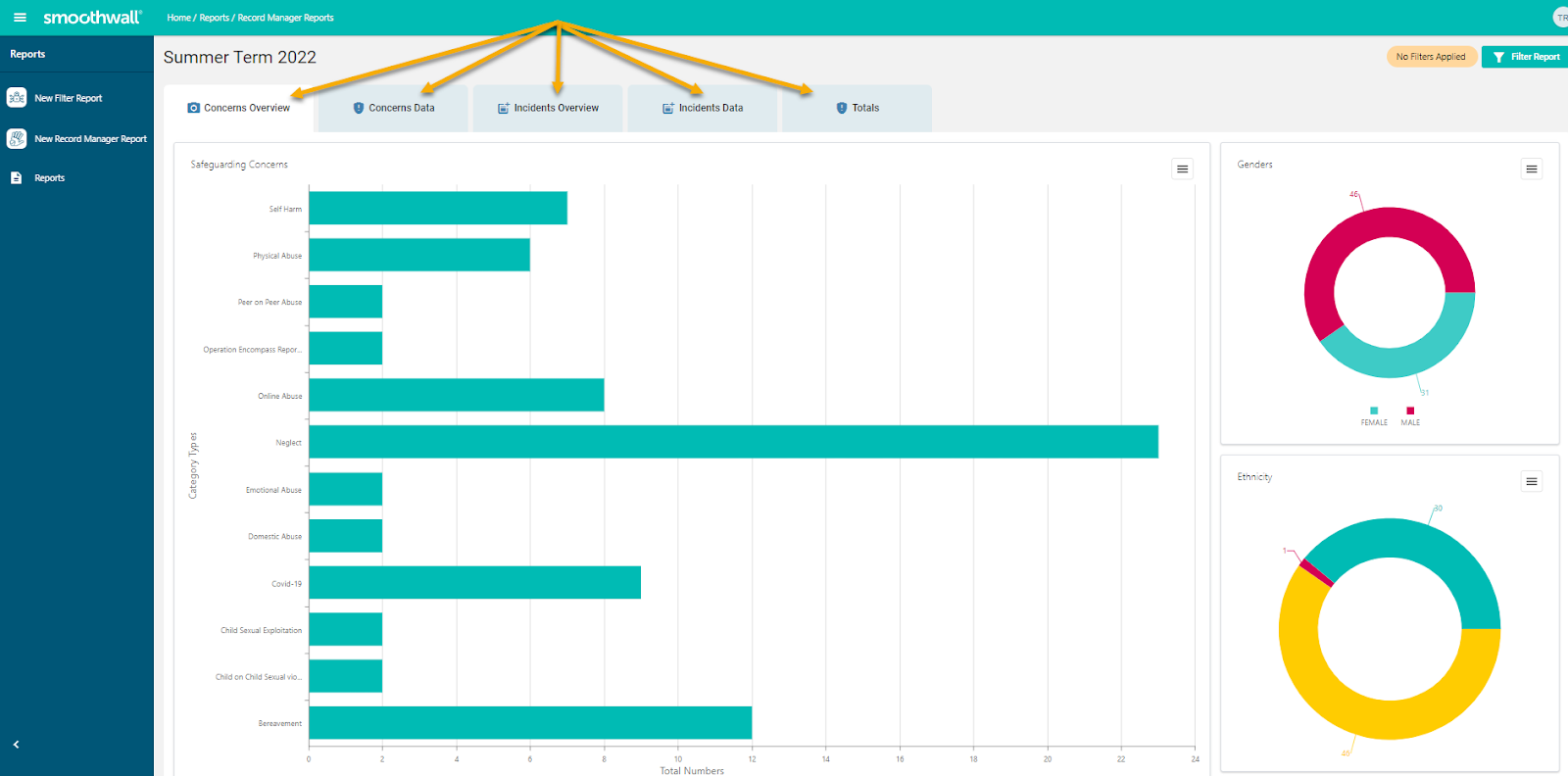 Concerns Overview Tab
This contains charts showing safeguarding concern data.
The bar chart shows all the safeguarding concern categories that have been entered for the whole setting within the date range you set.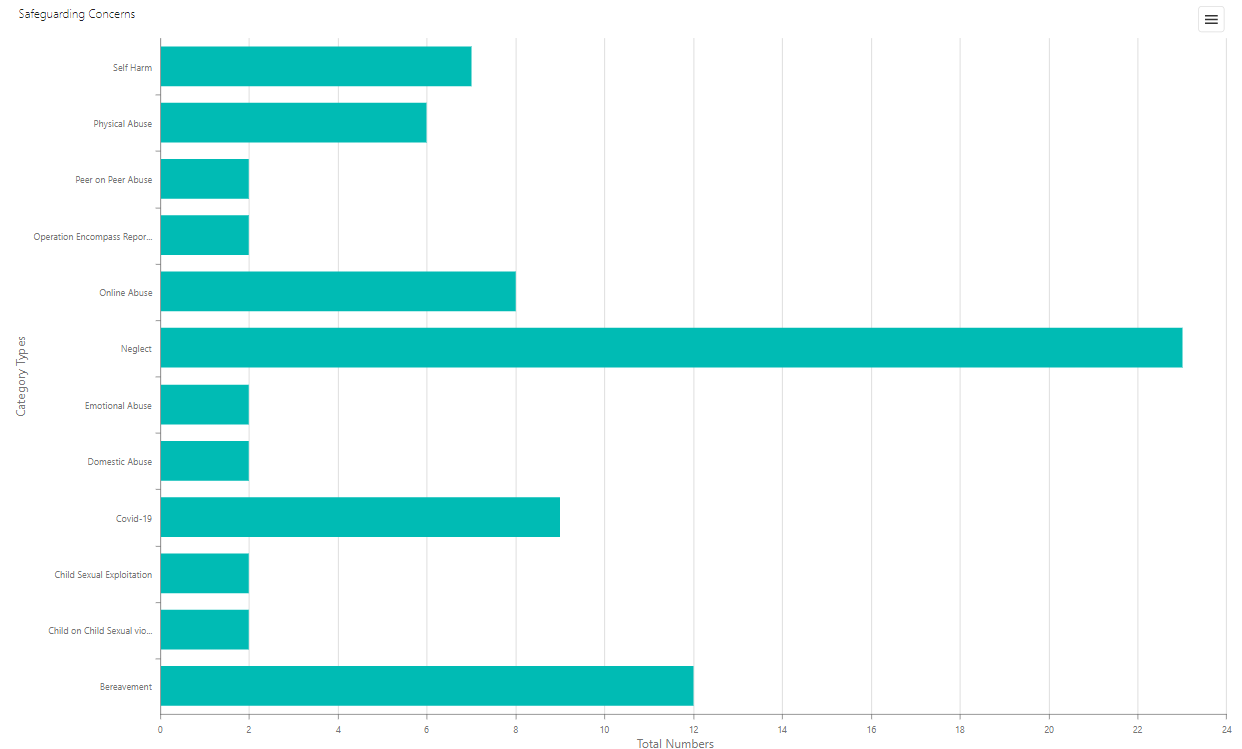 The pie charts show the split of safeguarding concern entries across different ethnicities and genders.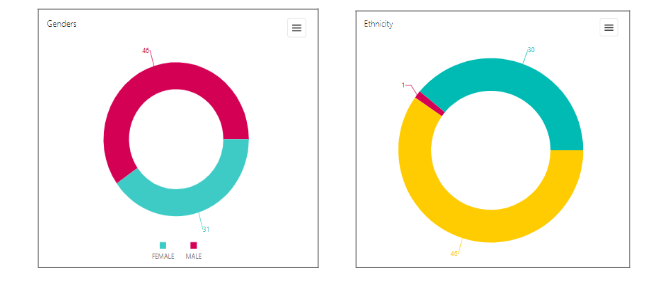 If you want to further drill down into this data you can use filters such as tag, individual student, referral, gender, ethnicity, house.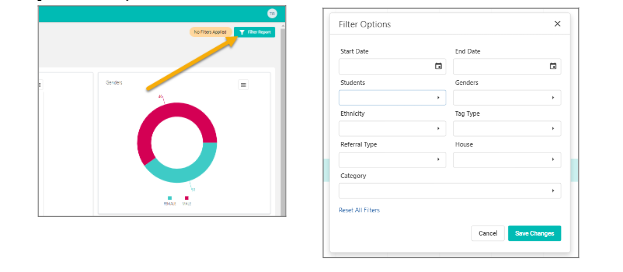 You can export any of the charts by clicking on the export button. This produces an image you can save locally.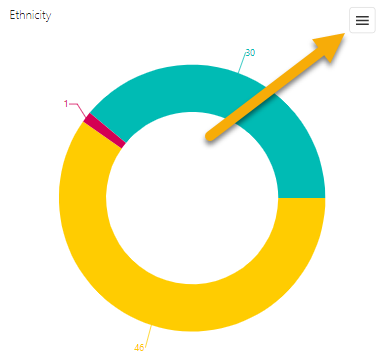 Concerns Data Tab
This is the same as the table that was at the bottom of the old reporting. It shows all students who have had safeguarding concern entries during the timeframe you set for your report.

The Incidents Overview and Incidents Data Tabs are exactly the same as the Concern ones, just showing Behaviour Incident data instead of Safeguarding Concern data.
Totals Tab
This replicates the totals table from the old reporting. For example the total of each type of action recorded during the date range for your report.

There is a new graph which shows the total number of safeguarding concerns and behaviour incidents for each week within your date range. This can be used to spot trends in your data.

Filters and exporting are also available on the Totals tab.
Important Information
Reports are only stored for 30 days so if you want to keep copies, make sure you export the charts and save them to your local drive. You can of course re-run a report for any date range, at any time.
To view your previously run reports from the last 30 days
Go to 'Reports' in the left hand menu.
If you are part of a multi site organisation (e.g. a MAT), you can choose which site to view reports from in the drop down menu top right.
References to 'Filter'
You may have noticed there are two references to 'Filter'.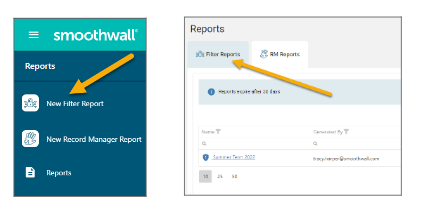 Filter is another product from Smoothwall which also uses our Reporting software. If you also use our Cloud Filter product, you can access all your reporting data in one place. If you don't, these will be blank.
If you are interested in enquiring about our Filter product, please contact your Account Manager who will be happy to provide you with further information.
Navigation to Portal
If you click on the 3 lines top left, you will be taken to the Smoothwall 'Portal'. If you use our other products you will be familiar with the portal. If not, don't worry.