Sometimes staff members need to be disabled for a period of time so they cannot access Safeguard Record Manager temporarily. For example being on long term sick, Maternity/ Paternity leave or offsite for a period of time.
What does 'Disabling' a user mean?
Disabling a user is similar to Archiving them. It means they will no longer be able to access Record Manager and automatically moves them out of the 'Active Users' table, and into the hidden 'Disabled Users' table. It does not delete any information from Record Manager, it simply stops the user from accessing the system.
How to Disable a user in Safeguard Record Manager:
Please note, only DSL's have access to change a user's status.
You have the option to 'Disable' a user in Record Manager. To do this go to the top-right drop-down menu, and click on 'User Manager':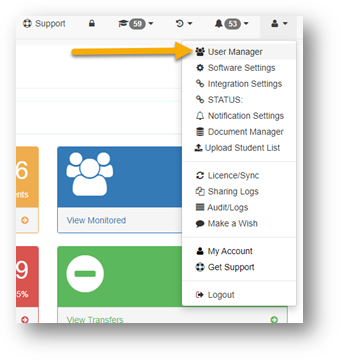 In User Manager, you will see a table of 'Active Users'. To disable a user, find the user and click on the red 'Disable' button to the right of their name: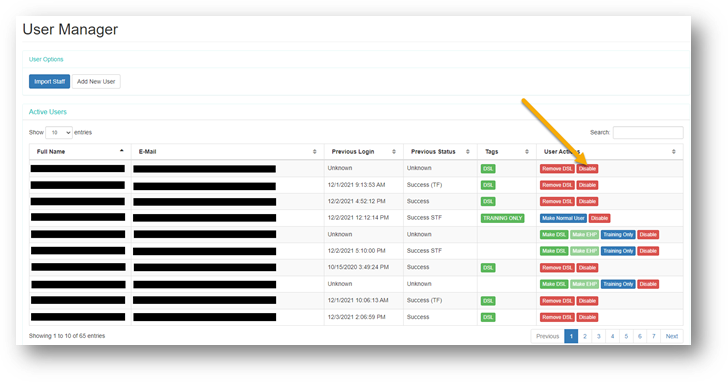 If you want to see disabled users, click on the 'Disabled Users' title to expand the table. If you want to re-enable a user you can do so by finding the staff in the disabled users table and clicking on 'Enable' to the right of their details.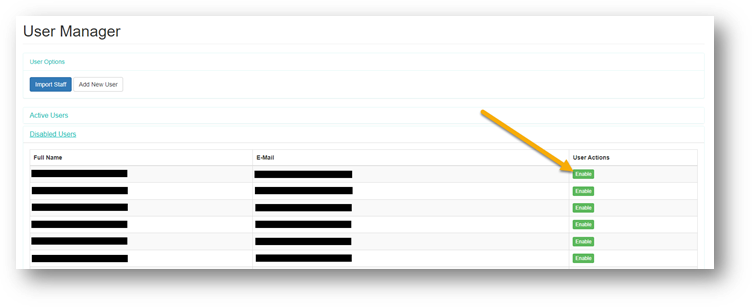 Deleting a User.
If you require a user to be permanently removed from Record Manager, you will need to contact Support to have this actioned by our Engineering team.
What does deleting a user actually do?
It simply removes their name from the live or disabled users tables. It doesn't perform any other function so our advice is to just disable your users when they no longer need to access the system.
However, we would recommend deleting a user in the following scenarios:
A member of staff has moved to another school within a MAT (Multi-Academy Trust). Record Manager allows one email address per user across our products. So if a member of staff moves to another school, with the same email address i.e jane.doe@ExampleMATTrust.com you will need to request their original user account be deleted, in order to set them up at the new school.